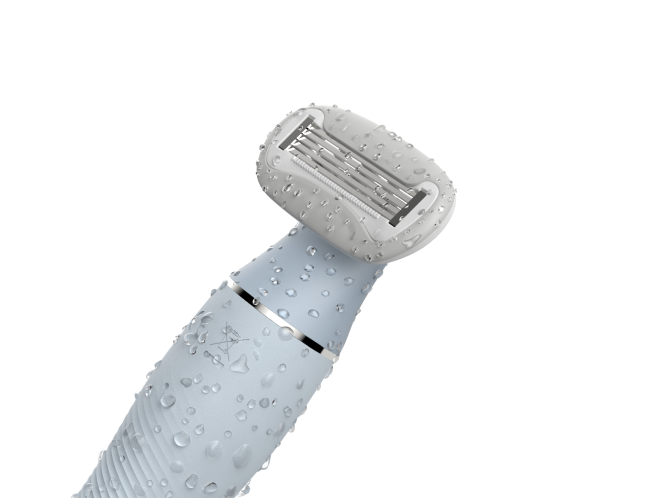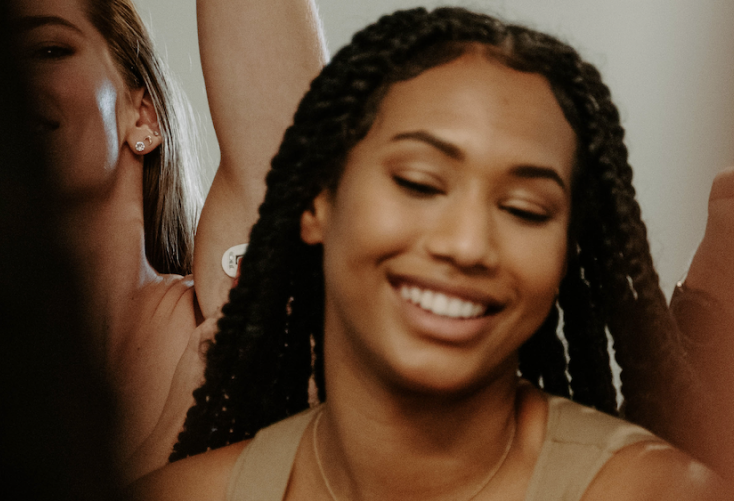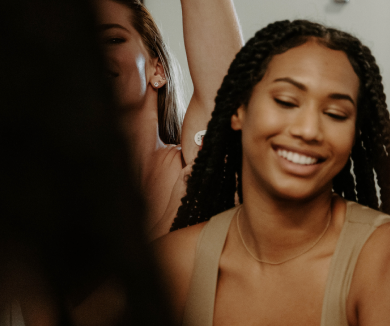 Ask and You Shall Receive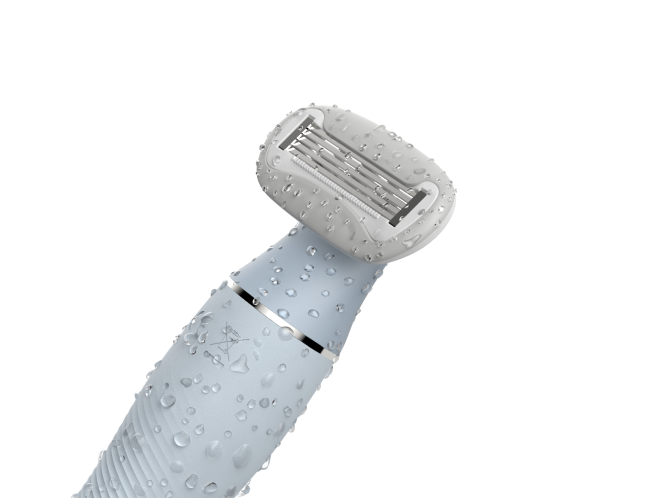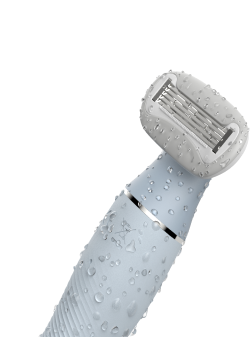 Have fun with the Freya handle
There's a single button that controls the on/off and the vibration. Press and hold the button for two seconds to turn it on and the red LED light will flash—this is the low setting. Press a single time to go to the medium setting, another single press gets to the highest single vibration, there are 3 more modes after this and you can cycle through them by simply pressing once on the button. After the sixth mode, you will cycle back through to the lowest setting. To turn off the Freya handle, press and hold the button down for two seconds. The LED light will go out when it's off
We recommend plugging directly into a wall outlet with a USB adapter (versus plugging into a device's USB port, like a computer) for faster charging. The tip of the device needs to be fully inserted for the Freya handle to charge. When the light is on, it's charging. And when it's off, it's ready to go. Charging time: 1.5–2 hours. Run time: 1–1.5 hours (highest speed)/2–2.5 hours (lowest speed). 
Our Freya handle is powered by a rechargeable lithium-ion battery. The Freya handle battery (like all rechargeable batteries) becomes less effective with usage. If used weekly, we recommend replacing every year. If used more frequently, we recommend replacing sooner. To preserve the lifespan of your battery, charge fully after each use.
In some rare cases, charging may take longer with certain power sources than others. For maximum results, we suggest plugging the USB charging cable into a USB 2.0 or higher wall adapter. Charging in a computer USB adapter is still effective, but may require a longer period of time to achieve a full charge.
Our Freya handle is powered by a rechargeable lithium-ion battery. The Freya handle battery (like all rechargeable batteries) becomes less effective with usage. If used weekly, we recommend replacing it every year. If used more frequently, we recommend replacing sooner. To preserve the lifespan of your battery, charge fully after each use.
Depending on what modes and vibration patterns you us, it can last up to 1.5 hours when fully charged
It takes 1 hour of continuous charging to fully charge the Freya handle.
Make sure you have fully charged your Freya handle. 
It takes two hours for the Freya handle to fully charge. The red LED light should turn on when your Freya handle is charging and turn off when complete. The Freya handle runs on a lithium-ion battery, so the battery will have drainage over time. We recommend you charge your Freya handle after every use for optimal life span. If the battery drains completely, your Freya handle will no longer work and cannot be charged.
When the light does not turn on, the Freya handle is running low on power.
We recommend using the Freya handle with any water-based lubricant from reputable brands. Avoid silicone or oil-based lubricants as it will degrade and ruin the silicone that is around the Freya Handle.
Wash your handle after every use. Use a mild, unscented hand or dish soap and water or any sex toy cleaner from reputable brands.
The Freya handle is water-resistant and can be used in the shower and bath. The Freya handle can be submerged up to 50 cm of water for up to 10 min, although we don't recommend it.
Use the holder that came in the box and proudly hang your Freya handle in your shower or near your bathtub, if possible keep it away from direct shower spray. Keep away from extreme cold or heat.
The Freya handle requires a two second hold of the button to turn on. Keep your blade part connector attached to your handle while the handle is off and you can comfortably travel knowing nothing will touch the button causing the handle to turn on.
The Freya handle's soft-touch exterior is made of 100% premium-grade silicone (RoHs passed and FDA-grade), and is both phthalate-free and latex-free.
Our Freya handles are sterilized before being packaged at our factory and the box is then sealed with a round seal tape ensuring no tampering happens to the handle.
The Freya handle has a one year warranty.
The Freya handle is made in China and engineered and designed by our team in the USA
Properly clean and dry the area that you want to attach the hanger to. Peel off the clear plastic sheet from the back of the hanger to expose the adhesive area. Firmly press the back (adhesive area) of the hanger to the clean and dry area. Continue to apply pressure for 15 seconds.  For best adhesiveness, let the hangle idle for 1 hour or so before hanging your handle. Perfect, you are done and you can now use the hanger to hold your Freya handle. 
The Hanger can easily be pulled off the wall, by applying heat on the adhesive patch by using either streaming hot water or other source of heat like hot air (not fire) until it peels off the wall. You can now clean the adhesive patch and your hanger is ready to be reused.
Hard no! We are very much against any products being tested on animal.
Subscription
A subscription to Freya allows you to receive your replaceable Freya Razor cartridges at a consistent frequency. This way, you never run out of fresh razor cartridges when you need one. Once you have subscribed, you will be in complete control of your subscription. You can change the frequency you receive them or even your next shipping date at any time. In addition, you can update your address, cancel your subscription, or skip a shipment at any time simply by logging into your account.
Your starter-kit will be a one time shipment and will contain your Freya handle, 2 premium razor cartridges, a wall hanger and a USB charging cable.
You can cancel your subscription anytime you like. Please be aware that we cannot cancel processed orders, so make sure you cancel your subscription before we ship you your planned shipment.
Your order will be shipped at the frequency you selected when you placed your subscription order. You can always change that by logging in to your account.
You can manage your subscription (skip, pause, add/remove products, modify frequency, change, cancel) directly from your account. All you have to do is log-in.
You can choose to receive replacement blades every month, every two months, or every three months.
General Shipping & Return
Not yet but stay tuned as we are going to be offering this option soon.
Depending on your subscription plan the orders should arrive within 7-10 business days from when we ship them.
Each order has a specific tracking number that will be emailed to you after your order ships. Additionally, when you sign into your Freya account here, you can scroll to the bottom of the page to view your Order History. Click on the order number you are looking to track and the tracking number is located to each item: Date fulfilled [date] – [tracking number].
If your tracking information indicates that your order was delivered to the correct address and you are unable to find your Freya order, please reach out to us here and we'll make sure you get the products you need!
We ship to all 50 states in the U.S. (including P.O. Boxes).
At this time, we are unable to ship orders overnight
We offer a hassle free 60 days return policy from the day of your purchase.  Our return process is easy, contact our customer support team atHello@hifreya.comto initiate the return. All shipping costs for none defective products will be the customers responsibility.
You can do all of that from your account! You cannot cancel a processed order so make sure you do so before the indicated date.
You can reach us by emailing your questions to us at hello@hifreya.com.